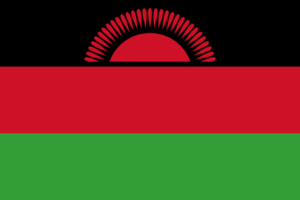 Everyone must have seen images of Africa on TV. What is mainly shown is the negative side of Africa. Famine and poverty, African children with broken, dirty clothes and swollen bellies from hunger. This is one side of Africa which certainly exists and needs to be shown to mobilize economical support to solve those critical issue. However, there is also a very different, beautiful side of Africa that you don't see on TV. One special place is Malawi, and you will mainly notice its fascinating beauty only when you touch Malawian ground. We want to show you that side of Malawi.
Malawi is known as 'the warm heart of Africa', because of its warm and friendly people. Anyone who has been to Malawi will agree. You will immediately feel welcome and you will be greeted with 'Muli bwanji' (how are you?) by everyone. Malawi feels like a warm bath, like coming home. Malawi is one of the poorest countries in the world and yet you always see a big smile on the faces of the Malawian inhabitants. People live day by day and despite the poverty, they radiate happiness and there is a lot of laughter, dancing and singing. People take care of each other. Sick, old people and children are supported. The family ties are close. Everywhere you are, you hear the typical African music. They try to make the most of their lives and often know no better than that their situation is as it is. Aaron describes it as 'people in Malawi live by chances, not by choices'. Malawi is known for Lake Malawi, a beautiful, large lake stretching from the north to south of the country. Lake Malawi is surrounded by beautiful green nature and mountains. There are also several national parks where you can spot elephants, giraffes and lions. Fishing is an important source of income. In addition, Malawi has traditionally focused on growing tobacco and tea plantations. There are no minerals in Malawi and there is also no seaport. Additionally, the level of education is relatively low. All this means that Malawi struggles to reach its full potential. The OneHeartMalawi foundation is setting up a project to give young adults who did not get the chance to learn a vocation a chance. Go to Vocational Training to read more.
"People in Malawi live by chances, not by choices"
Monkey Bay is a collection of villages in the district of Mangochi, the southern part of Malawi. It has approx. 20.000 inhabitants and is partly located by Lake Malawi. The houses in the villages are small and simple. Few households can afford electricity, because the connection costs are about three times as high as an average monthly salary. In addition most houses do not have a drinking water supply. The life of the people in Malawi is not defined by minutes, hours and days. They follow the rhythm of nature. They don't know alarm clocks, they will be woken up by the sunlight, between 05:00 and 06:00. At dusk, at around 18:00, they gather for dinner and go to bed between 19:00 and 20:00. We are happy to take you for a virtual journey into a typical day in the life of a woman, man and child in Monkey Bay.
Co-founder of this foundation, Aaron, was born and raised in Monkey Bay. As a result, we are familiar with the situation in this area and we already have good contacts. Read more about our projects in Monkey Bay:
Projects
.
A day in the life of a woman in Monkey Bay
Most of the women in Malawi are not working. They take care of the household and the children. In the morning they make sure that breakfast, tea with lots of sugar and dry bread or porridge, is ready for the husband and children. They eat together outside on a reed mat. When the adults are at work and the children at school, they dedicated their time on household tasks. The house is swept and dishes and clothes are washed in Lake Malawi. Lake Malawi is actually used for everything. So you see different groups of men and women next to each other doing the laundry, showering and brushing their teeth. When everyone is back home, the women make sure that lunch is ready. The women cook outside on an open fire or charcoal burners. Lunch consists of 'nsima' with kidney beans or fish. Malawians do not use cutlery, they eat with their hands, together from one large pan on a reed mat. In the afternoon, the women are alone again and continue with the household tasks. They try to finish this before mid-afternoon because of the heat. When the women have finished the household chores, they rest and lie together on a reed mat in the shade. In the evening they provide the evening meal, this is again 'nsima' with kidney beans or fish. In this situation there are three meals in a day, however the vast majority of families can only afford one or two meals a day. On weekends, women often go to the market on Saturdays and church on Sundays.
A day in the life of a man in Monkey Bay
After breakfast, the men take a shower dipping in the lake. Then, men with an employment, such as cooks, teachers and gardeners, go to work. They depart between 7:00 and 8:00. After their shift, they come home for having lunch with the family. After, they return to work until between 17:00 and 19:00. It is different for fishermen, who usually work in the evening from 21:00 to 5:00. However, in Malawi, the majority of men is unemployed. They spend their time playing a game of 'bawo' in a group under the trees or strolling around in the village. In the evening they go home and eat the evening meal provided by their wife between 18:00 and 19:00. The men who can afford it, head to the local bar on weekends. It is not customary for Malawian women to come into pubs.
Do you want to know how OneHeartMalawi will support the women and men in Monkey Bay? Read here about the project 'Vocational Training'.
A day in the life of a kid in Monkey Bay
After children in Malawi wake up, they wash themselves in Lake Malawi. Then they have breakfast with tea or porridge. They go to school from 7:30 to 1:00. After school they go home to eat nsima and go for a swim in the lake. The boys play football and the girls help their mother with household chores. When the girls are done with their chores, they like to play netball or make dollhouses from wood. In the evening they eat nsima with their parents. Children often go to church on weekends.
Chances and opportunities
Malawi is not a common touristic destination for foreigners. This has preserved the authenticity of the people and the land. Malawi is undiscovered, unique and therefore so pure and real. Most people will never have heard of the country of Malawi. The downside to this is that not much aid is available for Malawi either. It is a pity that so many people with talents and ambitions in the beautiful country of Malawi do not have the opportunities and possibilities that we have in the Netherlands. They have what it takes to make something of their lives, but unfortunately there are no resources, so hope is most of the times lost. This is a missed opportunity for the country and the people.