The OneHeartMalawi foundation is committed to the people in Malawi and empowers them in their growth towards self-reliance. Even before the official establishment of this foundation we were dedicated to the same goals. The two big projects that evolved from this are project Food and Water. It all started with the extreme drought in 2016 that caused the harvest to fail that year. This led to an extreme famine in Malawi. To still be able to provide the people with food, we collected money to bring maize to the villages that did not have access to it. You can read more about this here: Project Food. As this was an acute disaster, direct action was required. However, to provide a more sustainable solution it was important to ensure the food production in Malawi was less dependent on the wet season. Therefore we started the Project Water in 2018. By constructing a water pump in the area we previously delivered maize to, the people can now cultivate vegetables independently of the wet season. Furthermore, this pure water source is used for drinking and cooking. You can read more about this here: Project Water. In 2020 we established an official foundation: OneHeartMalawi. With this foundation we hope to collect more money to have an even greater impact on the people in Malawi. This way, we hope to make our dream project come true in 2021: starting a center where young adults can learn a vocation. Education is not self-evident in Malawi, consequently only few people receive a chance at higher education. In this project we aim to give motivated young adults without education the chance to learn a vocation like welding, hairdressing, building furniture or sewing clothes. We are convinced that this project will have a sustainable impact on the people in Malawi. You can read more about this here: Vocational Training.
Select a project to continue reading
Vocational training | Ntchito Zamanja
Lack of opportunities after primary education.
Young adults from 18 to 25 years old.
Establish a center where young adults can learn a vocation.
In Malawi, education is not as self-evident and well organized as in the Netherlands. In principal, everyone can go to primary school because it is free. At the end of primary school the students take an exam. Of all the students that pass this exam, only one third with the highest grades can go to secondary school. This is not for free but affordable for families. For the other two third not selected students the only chance for education is a private school. However, these schools are very expensive in Malawi and only the richest families can afford them. At the end of high school the students take another exam. From this only one tenth of the best students are selected to go to university, in Malawi and sometimes abroad. This is again not free, but often affordable. For the other nine tenth of students, the choice of a private university is very difficult. There are less spots available then there are for the private high schools, and it is even more expensive. In total, only three of every hundred students get the chance to go to the university. There are no official other education levels after high school. This lower chance of education is reflected in the achieved educational level of adults in Malawi, as is visualized in the graph below. Aaron, co-founder of this foundation, was selected to study at the university and could do this in Scotland. Read more about his journey in Our story or read further to find out what OneHeartMalawi wants to do for the young adults that did not get the chance to learn a vocation.
At the end of high school, the students are between 17 and 20 years old. Those students that did not get selected do not have any chances or opportunities, and therefore have no future. They lack focus and have nothing to do. These are young adults that are at home with their families and stroll around the villages. Women who do not get the chance to learn a vocation more often become pregnant at a young age or end up in prostitution to earn some income. Aside from the impact this has on these women, this leads to an increase in HIV/AIDS and in the lack of financial means to provide a better future for the newborn children. Young men who do not get the chance to learn a vocation more often end up in the street or get addicted to alcohol and drugs. Unfortunately no job means no income. Social benefits don't exist in Malawi.
To offer the people who missed out on proper education a chance, OneHeartMalawi is establishing a center in Monkey Bay where motivated young adults can learn a vocation, like welding, hairdressing, sewing, or building furniture. OneHeartMalawi will hire experienced Malawian welders, hairdressers, seamstresses and furniture builders that will train the students in these vocational skills. The training period will take 6 months. OneHeartMalawi will start this project small. We will therefore focus on two vocations: sewing and welding. The products that are made during the training sessions will be sold and their proceeds will go back to the project. The target group is vulnerable young adults between 18 and 25 years old, without opportunities, who are focused and serious enough to take on this training course. By talking to high schools and village chiefs we will find the young adults that are suited for these trainings. We will start with 2 trainers and 10 students, consisting of both young women and young men. After a student has successfully completed the training, he or she will receive a certificate.
To ensure this project is sustainable in the long run, the students take out a loan in the form of a fixed amount. Once they have a job and income, this amount goes back to the project. With this money new students can be trained. After completing the training, there are three options for the students. The first option is that the student can be employed by a company. To support this, we contact suitable companies. The student can also start his own business with a small loan from the foundation. The last option is for the student to work as a trainer within the training center.
The people who are sewing and welding on the photos are not part of the project but show how these professions are practiced in Malawi.
OneHeartMalawi offers young women the opportunity to build on their own future, to ensure a more secure existence for themselves, their children and their family. Within this project we will teach young women, who were not selected to study, a vocation, starting with seamstress. Young women can of course also choose to be trained to become a welder. Offering young women this chance creates hope and the opportunity of earning money. The training creates focus, diminishing the chances of an early pregnancy and increases the realization that ending up in prostitution is not necessary in order to earn money.
If more men would get the chance to learn a vocation, this would have a positive impact on the degree of crime and addiction amongst young men. OneHeartMalawi provides young men with a chance to make something of their lives to create a better future for themselves and their family. Therefore, within this project, we will teach young men, who did not get selected to study, a vocation, starting with a training to become a welder. Of course they can also choose to be taught how to sew clothes.
Patience Namadingo, a Malawian singer and songwriter, wrote this beautiful song on the lack of opportunities for young women. This song is a lasting inspiration for us to create opportunities for women in Malawi.
The start-up of this center consists of 4 phases. In the first phase the land will be bought on which the center will be built. Estimated costs: €1.800,-. In the second phase the center will be built, where material, transport and labor costs are incurred, estimated at €7.900,-. The center is expected to be ready for use within 3 months. To ensure that the start of this project and the building of the center all run smoothly, the founders will be present onsite and see to it that the money ends up in the right place. In the third phase, the tools and materials will be procured that are required for the training courses. These costs are estimated at €4.800,-. In the fourth phase the center will be ready for the first 10 students. The labor costs for the two trainers in the first 6 months of training is estimated to be €1.500,-. Altogether, including a 10% addition for unforeseen costs, this comes down to €17.600,- budgeted costs for setting up this sustainable project. A more detailed justification for these numbers ​​can be found in our Budget 2021document. After having established this centrum, the project can be expanded with more trainers, more vocational options and therefore more young adults that can be helped. During this time we will focus on making this project self-sustainable on the long term.
Estimated costs: €1.800
Completed with 46 donations
Estimated costs: €7.900 + €5.100*

Welding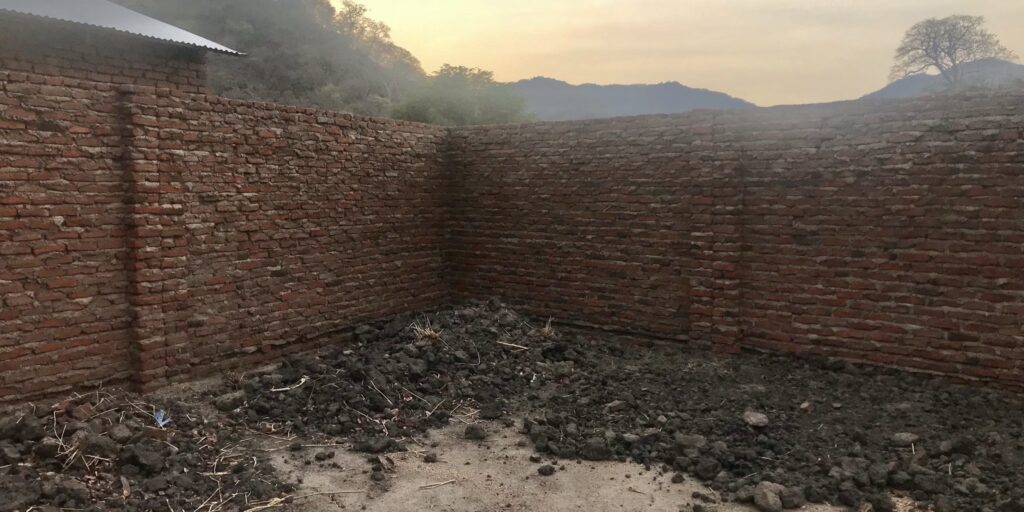 The second building on the land is intended for welding trainings. In 6 months, the students will gain the knowledge and skills to start their own business or join a company.
Tailoring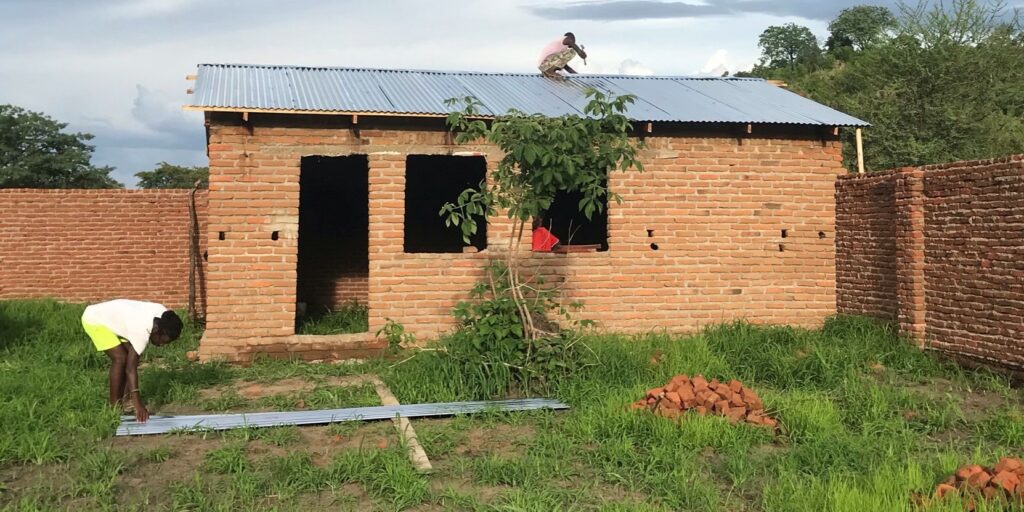 Our first focus is the building for tailoring training. In 6 months, the students will gain the knowledge and skills to start their own business or join a company.
Office home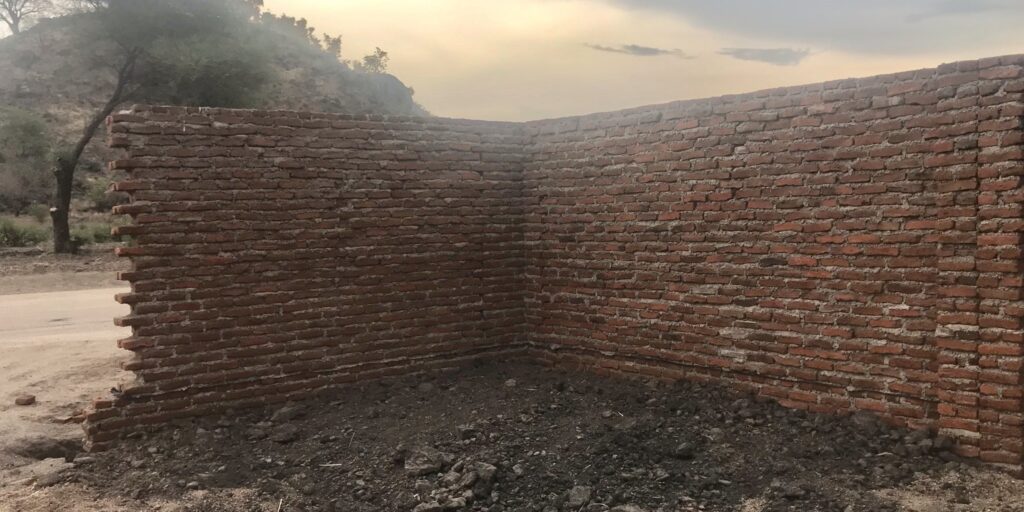 The land will be guarded by a full-time security guard who will also be responsible for the reception. He will be given the opportunity to live here and will receive a salary for his work.
Future buildings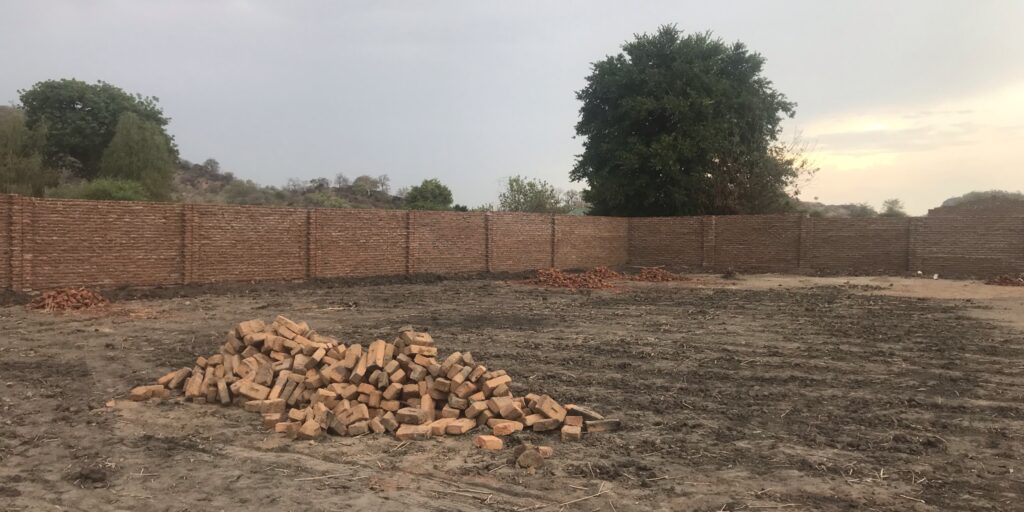 We have plenty of space and ideas to expand. However, maintaining focus is essential for success, which is why we prioritize setting up the first two trainings.
Fence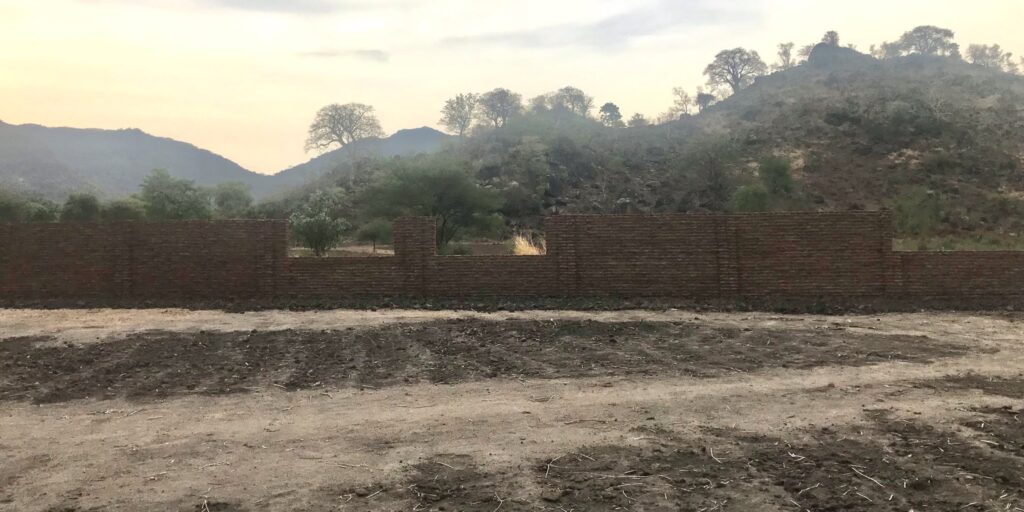 The wall surrounding the land of almost 150 meters long and 2 meters high is completely finished. Currently a metal gate is being made for the entrance and the openings at the front are being finished with metal.
*Update October 2021: The costs for phase 2 are more expensive than we budgeted at the start of the project. This has two causes:
1) A worldwide trend is that costs of building materials are rising sharply, also in Malawi. One of the causes in Malawi is the large increase in petrol prices, because almost all transport is by road. On October 10, 2021, petrol prices have risen by 28%, making all products more expensive.
2) The land we bought was bigger than we thought possible. A wall is built around this larger land, which is also used for the buildings. As a result, construction costs are higher than budgeted. On the other hand, we now have sufficient growth opportunities and will be able to provide other training courses on this land in the future. That way everything stays central.
For these reasons we split phase 2 in two, namely Phase 2a: Estimated costs €7.900 for preparing the land and building the wall surrounding the land. And Phase 2b: Estimated costs €5,100 for 2 buildings where the first two trainings will be given and for an office. We attach great importance to transparency towards our donors, hence this update. Our annual report and budget for 2022 will be published in January, in which we will discuss this in more detail.
We will keep everyone that donated informed on the developments of the project and will prove that the money ends up well by posting updates, stories and pictures on the website. With this project, the OneHeartMalawi foundation hopes to provide a future for vulnerable young adults in Malawi, but we cannot do this alone. We sincerely hope that you can make a contribution to help us realize our dream project
here
.
Select a project to continue reading
Dependence on rain for successful harvests.
Inhabitants of Monkey Bay.
Construction of a water pump powered by solar panels.
Sustainable project completed and water pump still in use.
We no longer collect donations for this project. However, there is the possibility for companies to make a direct donation for the construction of a new water pump in another area. The estimated costs for this are € 15,000. Please contact us.
The Malawian people are dependent on water, amongst others for growing maize. The maize is sown between November and December, at the start of the wet season. The wet season usually takes 3 months. In this time enough maize is produced to provide families with food throughout the rest of the year. Unfortunately, in reality the wet season takes less then 3 months, yielding a harvest that is too low for the entire year. Each year Malawians starve and die from malnutrition. Furthermore, water is also needed for drinking and cooking. Often several kilometers need to be traveled to get to a clean water source. If nothing else is available, even polluted water is used for drinking and cooking, which causes bacteria and diseases, as the same water is used for washing. Malawi is one of the poorest countries worldwide, so there is only little money available for investments to prevent or solve the shortage of food and water during droughts. The climate change only causes more drought, increasing the severity of the problem.
At the beginning of 2016, founders Aaron and Mariska started a fundraising to provide the most vulnerable families in Malawi with maize. We thought that next to directly investing in providing food, investing in a more permanent and sustainable solution would be even better. Aaron and the uncle of Johan and Mariska, John, started talking about this during a family gathering and never stopped talking about it since. It seemed so easy, as only water was needed to ensure that people could harvest enough maize themselves.
The use of water pumps seemed a very promising solution to us. Powered by solar panels, these pumps bring water to the plants on the land via a drip system. A drip system yields the highest efficiency of water transfer, due to the high temperatures in Malawi. By leaving the construction to Malawian companies and the maintenance and use to the local farmers, we could give the residents themselves a chance to contribute to a sustainable solution.
John wanted to contribute and contacted an old friend, co-owner of Eltra Engineering BV. After discussing our proposal, the management of Eltra Engineering BVdecided to donate a substantial amount of money for the project. Aaron started the Water Project during his stay in Malawi in 2018. A lot had to be arranged and organized and contacts were established with various local businesses to realize the project. It was necessary for Aaron to be in Malawi during the startup of the Water Project to ensure everything went smoothly. A water tank was build and connected to a pump and solar panels. Water is drilled 50 meters underground. The pump is powered by solar panels and the water is stored in the water tank. The water is used for growing maize, but also for growing vegetables, like tomatoes, beans, lettuce, potatoes and lemons. It is also used as drinking water and for cooking and washing. Maintenance and repairs are paid by the people who use the water pump. The water pump is still used daily. Without the donation by 'Eltra Engineering BV' this would not have been possible. For this, we are very grateful to them. As we find it very important to keep them up to date about the developments of the Water Project, Mariska created a Facebook page where pictures and updates about the Water Project, also called the Chimanga Project, are posted. 'Chimanga' means maize in Chichewa (the Malawian language). At least 150 villagers of Monkey Bay use the water and are self-sufficient because of it.
Select a project to continue reading
Famine in 2016 due to crop failure.
Inhabitants of Monkey Bay.
Bringing maize to people without food.
In total €1,468 was raised providing food for 30 families.
We no longer collect donations for this project. This was an acute disaster requiring acute help in 2016.
In Malawi people are dependent on the wet season. Normally, the wet season starts between November and December which is the time in which maize can be sown. This harvest is needed for the rest of the year. The maize is milled into maize flour, from which 'nsima' (a kind of porridge) is made. This is the staple food for the Malawian people. They eat 'nsima' twice a day with, if available, some fish and vegetables. Normally the maize should have been harvested by then, but there was an extreme drought in Malawi in 2016. A crop failure occurred due to weather phenomenon 'El Niño', in which the sea surface temperature along the equator is strongly increased in the eastern Pacific. This influenced the weather around the globe. In some countries, like Malawi, there was barely any rainfall, whereas other countries were flooded.
In Cape Maclear, the village where Aaron is from and where Mariska did volunteer work in 2014, it had rained only once from November to January 2016. Everywhere tiny maize plants where visible, and the tension, helplessness and great fear for hunger could be felt. Because only small amounts of maize could be harvested, the prices sky-rocketed. While in the previous year one bag of maize flour cost 5000 to 7000 Kwacha (6 to 9 euros), now they were sold for 15000 Kwacha (19 euros). Considering that people earn 50 euros a month on average, this was unaffordable. But no maize flour means no food. Aaron knew that a few years back, during another extreme drought, people started eating poisonous mushrooms due to the lack of other food, and died.
When we experienced this up close, we wanted to do something. Mariska from the Netherlands and Aaron from Malawi. We saw opportunities, but these required money. The maize was cheaper in cities and where more rain had fallen. Locals could not get there and did not manage to buy the maize for these cheaper prices. Aaron himself had a car and could rent a truck to buy the maize somewhere else. If Mariska could collect money in the Netherlands, Aaron wanted to buy the maize flour for 15000 Kwacha (or less if possible) per bag in Malawi. He did not want to give the maize away for free, but sell it for 7000 Kwacha in Cape Maclear. This way, next to the money obtained via fundraising, more money was available to buy maize a second time to be able to help even more people. This way we wanted to prevent famine in the village. Mariska set up a separate bank account for 'Help for Malawi' at which donations could be received. Via email she informed family, friends and acquaintances about the problem and the plan. She asked if the email could be distributed even further. In this email Mariska added links to the news items from Malawi that clearly showed the severity of the situation. It was emphasized that with one bag of maize, an average family could eat for 1.5 months, and that the money would be used wisely and well. The money that was raised by Mariska in the Netherlands was directly send to Aaron in Malawi, where it would be in good hands. Also Mariska would keep all donors informed via pictures and updates from Aaron in Malawi.
In total
€ 1468,-
was raised for maize in Malawi. Aaron figured out where the maize could be bought at the cheapest price. It turned out that in the big cities, Blantyre and Lilongwe, less and less maize was available, which caused the prizes to increase again. He heard that the stock of maize was larger, and therefore cheaper, in Mozambique. Aaron rented a truck and bought maize in Dedza, a village close to the border with Mozambique. It was far from easy, as there were long lines of people wanting to buy maize, but he returned to Monkey Bay with the maize. Aaron knows the village and the people well and knew which sick or old people really could not afford to buy maize as they are completely on their own. Sometimes they bought and shared the maize together with their neighbors. Aaron could buy the maize for 16 to 19 euros and sold the maize for the 'normal prize' of 8 euros a bag. With these proceeds and the new money collected via the fundraising, new maize could be bought. We thought it was very important that everyone who donated could see it was money well spent. Therefore, all donors received two emails. One with an
update, pictures and interim amount
, as within 10 days € 550,- had already been donated, and a second one with the
final amount and pictures
of some of the families with the purchased maize. In total, thanks to the money collected via fundraising, 30 families in Malawi got through this extreme drought and did not suffer from too much hunger.
Select a project to continue reading